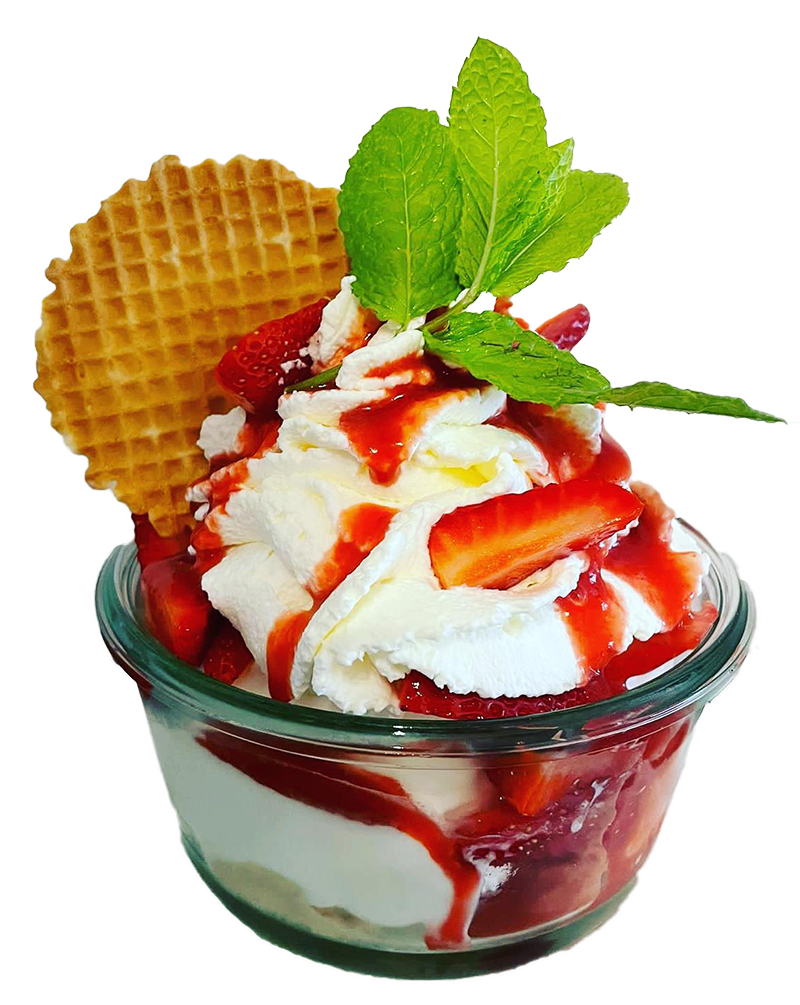 ice cream parlour:
Berliner Genussmanufaktur - Berlins Best IceCream
Enjoy the finest ice cream all year round – in our ice cream parlor in Berlin Lichterfelde you will get your money's worth as a guest. Because our ice cream is made with love and care. There is also a whole selection of fine cakes and tarts as well as unbeatably aromatic Italian coffee.
Pleasure in the ice cream parlour:
Berlin premium ice cream for every occasion
Enjoyment is our top priority. In our Lichterfelde Café at Curtiusstraße 8 you can enjoy delicious ice cream from our own factory. We always have a monthly collection of 18 different flavors. To make sure there is always something new for you. We look forward to seeing you!
Our head ice cream confectioner and the production team are constantly creating new, unusual varieties that they use to demonstrate their skills and make us one of the best ice cream parlors in Berlin. You can choose from 18 different flavors every day in our ice cream parlor in Berlin Lichterfelde. We have over 250 different varieties in our repertoire. We are sure to surprise you with our unusual creations.
Our ice cream at your event
A delicious ice cream as the highlight of your event.
Get our tasty creations at your party
or book one of our ice cream vans for your event. Delight your guests with a choice of 3, 6 or 7 different varieties. We have
the right vehicle for every event
- our ice display case is a discreet ice dispenser for smaller events, while the ice truck is perfect for large events with around 10,000 people.

For special celebrations such as weddings or christenings, our pride and joy, the historical ice cream bike. Our most popular vehicle, because it contains numerous delicacies and also sets charming, picturesque accents at your celebration.
Pure enjoyment:
Berlin's own creations are waiting for you
We are proud to be one of the best ice cream parlors in Berlin Brandenburg and strive every day to surpass the expectations of our guests. You will not only find excellent premium ice cream here, but also Belgian organic waffles, fine coffee with an unbeatable roasted aroma and cakes that are not only pleasing to the eye. Discover our selection for the senses!
We always love to come. The ice cream is super tasty. The varieties are so wide-ranging and there are always imaginative combinations. Cucumber Avocado Cream Cheese was great! And the offer changes regularly. Even when asked if you could get a waffle for the little ones, they responded immediately. The warm waffles taste good. And I can only recommend the different Chai Latte. The staff is always friendly and courteous. Even in stressful times, they don't forget you. Would love to give more stars 😊
The best ice cream in Berlin! Although there are many ice cream parlors of a very high standard in Berlin, this cafe is in a different league. Eiskimo already had great ice cream, but the new operators have gone one better! The location is still great and the service first class. Anyone who has eaten yoghurt ice cream here will never eat it anywhere else.
Super service, delicious service and the ice quality is more stable than the polar ice caps.
This is my first and probably last review on Google. Because I never do anything else. But I have to say that on this Sunday, when I ate a Belgian waffle here, everything was just right. The weather, the location, the food and especially the conditions provided an unprecedented competition and surpassed each other in their very own brilliance. The selection is not overloaded, but still impresses with its creativity and lace. Almost immediately after ordering, the food came to the table with a patronizing cordiality that is second to none. 5/5 pancakes, absolute recommendation!
Great ice cream, relaxed environment and very nice staff.
ice cream and iced coffee
We know from experience that our customers have very different wishes. But everyone who loves gelato in Berlin wants intense and unique flavored ice cream. No problem for our head ice cream confectioner and her production team! That's why our ice cream in our Berlin ice cream parlor…
vegan and lactose-free,
gluten free,
without flavor enhancers,
without artificial additives such as dyes,
mostly from regional products.
But that's not all: With our selected types of ice cream, we pay attention to perfect aroma and high quality. Therefore only use as much sugar as necessary and largely avoid additives. Therefore, the real Belgian chocolate is also a full pleasure, just like our fruit varieties, which are a true taste experience with fresh fruit from regional purchases – maybe the best ice cream in Berlin!
Belgian organic waffles
What's better than fresh, hot Belgian waffles on the breakfast table? Of course only homemade Belgian organic waffles with the finest ice cream as a topping! It doesn't always have to be vanilla ice cream: After all, the most exciting ice cream creations are not far from us and invite you to an absolutely unique Belgian waffle taste experience. You can choose from 18 different varieties every day - so how about a blackberry topping for your hot organic waffle?
Excellent coffee from a small roastery
Would you like an espresso with a wonderful roasted aroma to go with the cake? To find the best coffee, you have to try quite a few things. Our choice fell on a small roastery in Naples that produces a particularly noble blend of dark coffee beans: 80% Arabica and 20% Robusta are waiting to delight your taste buds. In order to do justice to the high-quality bean, we prepare our coffee with a beautiful, handmade premium portafilter machine from the Rocket brand, which, as one of the most successful espresso machine manufacturers, upholds the tradition of Italian coffee art. As you can see, you've come to the right place!
Fine cakes and tarts
There is never enough sweet treats. That's why we also offer something for guests who love freshly baked goods. Whether it's cheese cake coins, fondant au chocolat or fruit classics: in our display case you will find hearty creations every day, which will not make your choice that easy.
Eating ice cream in Berlin


unusual creations for your enjoyment
Our ice cream is not always exclusively regional, namely when it gets even better. For example, we get the citrus fruits for our lemon ice cream fresh from Sicily and process the sun-ripened fruits within 48 hours. The intense taste is convincing – just like our other varieties for customers who are keen to experiment: Let yourself be inspired by …
Coffee 1001 night,
Black forest gateau
Raspberry goat,
Ginger Ninja,
Salted caramel,
Viennese Almond,
Buttermilk Pomegranate
Red Tea Currant,
Raspberry cream semolina,
Star anise fennel,
Lemon-Cheesecake,
Pink Grapefruit,
Mate,
Marshmallow,
Peanut
oder Kinder-König for the little ones.
Of course, we also offer mango, vanilla, strawberry and much more for lovers of the classic varieties. Are you curious? Visit us, choose from our great taste creations from classic to unusual and enjoy what is probably the finest sundae in Berlin Brandenburg!
Our ice cream parlor in Berlin Lichterfelde
You can relax in our ice cream café, try out the unusual creations of our head ice cream confectioner and let your soul dangle. Feel free to sit outside on the terrace or enjoy our original variety of flavors at our tables. Do you have questions? Feel free to drop by or contact us. We look forward to you!